Stairlift Models We Carry: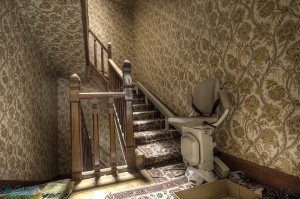 Williams Lift Company is the leading stairlifts in NJ provider, also specializing in wheelchair ramps as well.
Seniors who are in need of residential stairlifts in NJ, whether it's  in Essex, Middlesex, Hunterdon, Hudson or surrounding counties, can depend on our company to make their life easier.
Those who face everyday mobility issues can benefit greatly from having a stairlift or chairlift installed in their home. After installing a residential lift in their homes, many customers are amazed at the stair modification, and wonder why they did not contact our stairlifts in NJ company sooner!
After a stairlift installation, NJ residents can travel up and down stairs more freely than ever before. Being stairlift specialists, Williams Lift Company is proud to have this effect on our customers and is committed to making the entire senior community of NJ safer and happier.
Stairlifts in NJ – Is A Stairlift Right For You?
There are many reasons why people choose to have a residential stairlift installed in their home and it all has to do with safety and independence.
Has an injury left you with limited mobility, causing you to spend a lengthy amount of time away from the comfort of your home? One of the reasons why people inquire about stairlifts in NJ is to be able to move around their own home more safely.
A residential lift allows people to remain in their familiar surroundings. Nobody likes spending an extended time away from their home, especially if they have been injured, or have experienced major surgery. We understand the recovery process can be difficult, but stairlifts in NJ allow people to heal within the comfort of their own home because they can move freely from room to room.
Installing a residential lift is an easy process and can be performed by the wonderful installation crew at Williams Lift Company. Don't worry, there's not nearly as much work involved as it sounds. Our goal is to have the stairlift blend right in with the rest of the home, which is a concern that a lot of customers have.
If you have never seen or used a stairlift before, you may think they'll add a lot of unnecessary clutter to your living space. That's not true at all. You'll barely notice your stairlift is there until you need it.
With our stairlifts you can remain independent and feel safe and secure in the comfort of your own home. You don't need to live your life being guarded by a loved one because the residential lift is right there when you need it.
We carry Bruno and Acorn brands. For more information about the models we carry view our full selection of stairlifts in NJ on our website. We have installed residential lifts for many customers living in areas of NJ including: Essex, Middlesex, Hunterdon, Hudson County and surrounding areas. For more information, please call us or contact us today.